I recently spoke to an old friend and had the unpleasant task of telling her I have MS. It had been a while since an incident like that, and I didn't know if I should at all. After the initial shock she seemed to understand and let me know of an artist who also has MS.
Tamia is an R&B singer and is married to Grant Hill. After my friend told me about her I went completely crazy trying to find out all I could about Tamia. She is a beautiful, wonderful singer who has 2 children. As I was reading articles about her something stood out that totally rocked my thinking. She said in an interview "
it wasn't a death sentence
". I sat there reading it over and over and it hit me that I had never thought of it that way. She also speaks of her pregnancies in other interviews and when I read it, it almost put me at ease. It's crazy to say that a person that I don't know has that much power with her words to put me at ease with one of the biggest life changing chapters in my future which will be pregnancy.
This is what she said in an interview with "Young, black and fabulous" when asked if she was worried because of her MS to get pregnant the first time and a second time:
Tamia:The first time I wasn't diagnosed yet so I had no idea. I was diagnosed a year after Myla was born. I didn't know anything about MS–just about Montel and Richard Pryor. No one in my family has it. I meet so many people when I'm out on tour–mainly younger black women–who have MS. It's really interesting. I wasn't really nervous because with MS, when a woman is pregnant, all her symptoms of MS subside. So it's good to be pregnant. But you have to be careful because after you give birth, there's a higher rate of attacks. So to answer your question, no, I wasn't worried since I knew being pregnant was totally safe.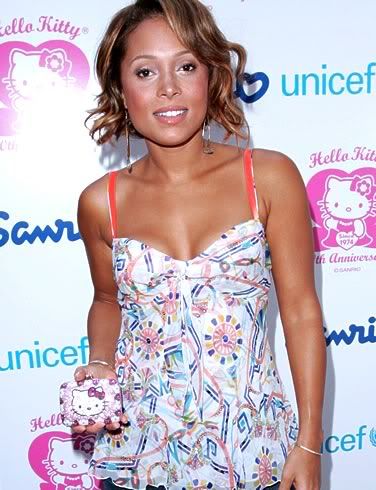 This is another interview with Extra TV where Tamia and Grant Hill talk about MS
Tamia and Grant Hill Fight MS
May 27, 2005
She's the sultry singer and he's the sexy basketball superstar who has made millions on endorsements. Together, Grant Hill and wife, Tamia, have lived a dream life -- until their world was ripped apart by multiple sclerosis.

And now for the first time since Tamia's devastating diagnosis nearly two years ago, the couple has found the courage to speak out, and they're talking only to "Extra."

"I mean literally, I went from being physically active to not being able to get out of bed," Tamia recalled. "I cried for maybe 20 or 25 minutes."

"It took time for her, for both of us, for everyone involved, to accept it," Grant added.

Tamia, who is 30, joins other celebrities like Richard Pryor, Teri Garr, Annette Funicello and Montel Williams in taking their struggles public to help raise awareness for the National MS Society and the crippling disease that attacks the nervous system.

"I just felt it was important to get it out there and let people know it's not a sign of weakness," Tamia said. "You have good days and bad days."

But the Hills aren't letting MS slow them down. Grant's still a premiere player in the NBA, whose main goal now is helping his wife manage MS through medication, diet and exercise. And remarkably, Tamia is raising a 3-year-old daughter and still touring and recording new material!

"It wasn't a death sentence," Tamia insisted.

"She's a great mother, she's active, she's entertaining," Grant said. "Hopefully she can be encouraging and inspiring to others."

"We're just pushing forward and hoping that in the next ten years there will be a cure," Tamia added.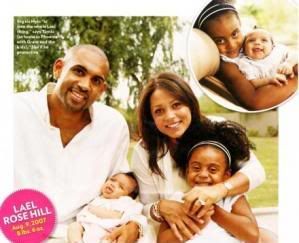 Lael Rose, Myla Grace, Tamia and Grant Hill